LIGHT RAIL TRANSIT 3 (LRT3)
Light Rail Transit 3 (LRT3)
The Light Rail Transit 3 (LRT3) came as part of the greater Klang Valley Urban Rail Development Plan (URDP) published in 2013. It serves to connect the seaside city port of Klang to the western edge of the Klang Valley, in Bandar Utama. 
The 37 km route alignment includes 26 stations and is designed to carry 36,000 passengers per hour per direction (PPHPD) at a top speed of 80 kilometres per hour. When completed, it will provide rail connectivity to more than two million people in the Greater Klang Valley urban area. 
Emrail was awarded the works in November 2017 and is expected to commence initial physical works in May 2018 with an expected completion date in 2021.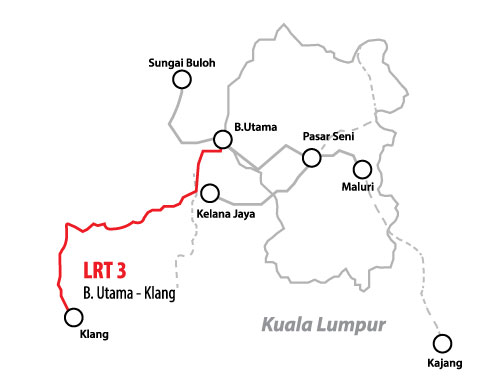 Client: Prasarana Malaysia Berhad
Project Delivery Partner: MRCB George Kent Sdn Bhd
Track Length: 74km
Contract Price: RM738.1 Million
Duration: 2017-2021
Trackform: Plinth Slab Track
Gauge: 1435 mm
Scope: • Design, manufacture, supply, delivery, installation, testing and commissioning trackworks and power conductor rail system