Mass Rapid Transit Sungai Buloh
– Kajang (SBK) Line
Mass Rapid Transit Sungai Buloh – Kajang (SBK) Line
The SBK Line is Malaysia's first MRT Line. The system has 31 stations along its 51 km alignment and has a 9.5 kilometre tunnel running through central Kuala Lumpur. Emrail was awarded the contract jointly with FujitaCorporation (M) Sdn Bhd for construction, completion, testing, commissioning and maintenance of the track works from Sungai Buloh to Kajang. Separately, Emrail was also awarded the cable bracket works in the tunnel section. Works for both began in mid-2014 and wrapped up in mid-2016 with the completion of the southern tunnel track works.
The Emrail-Fujita Joint Venture was responsible for laying the cast-in-situ slab tracks and installing the power rails along the northern section and through to the tunnel sections. In the south, the Joint Venture was responsible for providing Flash Butt Welding services to the contractor in charge of the southern segment. Physical works began in 2016. The project is currently on track to completion in 2nd quarter 2019, and regular train services are being gradually restored to its pre-flood levels 
The northern section of the SBK Line began operations in December 2016 and this was followed by the full length being made operational in mid 2017. It now serves more than 140,000 daily riders and is en route to hit its target capacity of 400,000 riders daily.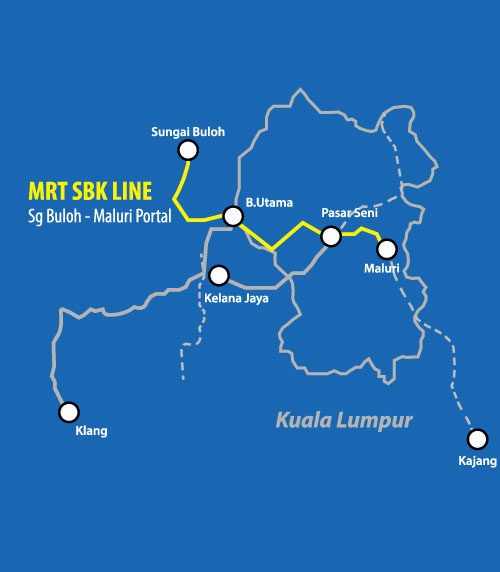 Client: Mitsubishi Heavy Industries and Tim Sekata Sdn Bhd
Track Length: 64 km
Contract Price: RM101.5 Million
Duration: 2014-2016
Trackform: Cast-in-situ sleeper slab track
Gauge: 1435 mm
Scope: • Construction, completion, testing, commissioning and maintenance of the trackworks
• Power rail installation