LRT Laluan Kelana Jaya
(Formerly Known as Putra LRT)
LRT Laluan Kelana Jaya (Formerly Known as Putra LRT)
In preparation for the 1998 Commonwealth Games, the Government announced the construction of two urban transit lines to supplement the existing inter- city Komuter rail network – the PUTRA LRT and the STAR LRT lines. The former, now known as the Kelana Jaya Line, was to become the world's longest driverless system at the time of its construction.
Emrail, known then as Time Salam Engineering Sdn Bhd, was awarded the contract together with SNC- Lavelin by the Bombardier Consortium to construct the elevated track for the Kelana Jaya LRT line between the depot at Kelana Jaya station and the Pasar Seni station, a distance of approximately 12 kilometres. 
The track was constructed using pre-cast slab track and was outfitted with a 4th rail system for electrification of the Bombardier Innovia Metro 200 rolling stock. Additionally, as the Bombardier rolling stock utilized a Linear Induction Motor (LIM), the LIM rails had to be installed in between the left and right running rails.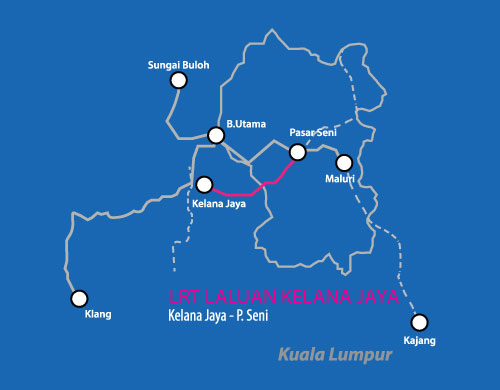 Client: Bombardier Consortium
Track Length: 24 km
Contract Price: RM105.6 Million
Duration: 1995-1999
Trackform: Pre-cast slab track
Gauge: 1435 mm
Scope: • Constructing and commissioning trackworks
• Linear induction motor rail installation